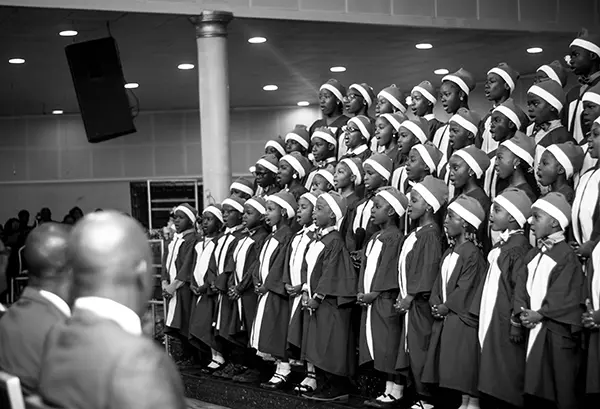 Do choral music and Catholicism go hand in hand? Throughout the centuries, sacred choral masterpieces from well-known catholic composers have filled churches with sound. Whether you're a Catholic or not, chances are you know some popular catholic songs by heart. But which choirs bring these songs to life? Read on to discover the 5 best Catholic choirs worldwide, each of whom brings its own remarkable style and charm to this beloved genre of music.
St. Peter's Basilica Choir – Rome, Italy
St. Peter's Basilica Choir in Rome, Italy is one of the most renowned and impressive choirs in the world, having been a part of the music scene for more than 500 years. The choir comes alive during celebrations of religious holidays and events such as Palm Sunday and Christmas. Making use of traditional instruments and innumerable layers of sound and harmony, their performances are nothing short of mesmerizing. With music considered to be spiritual in nature, many believe that hearing their voices provides an opportunity for inner reflection and peace. Add to this their ability to transport listeners back through centuries of history, invoking both joyousness and wonder at every single performance they give.
The Sistine Chapel Choir – Vatican City, Italy
Located within the walls of Vatican City is the Sistine Chapel Choir, one of the world's oldest and most renowned choral groups. Established centuries ago, it has served as Rome's official choir since 1588, under an impressive list of patrons and directors. The group is known for its impeccable arrangements of both classical works and new compositions, in a variety of languages including Latin and Italian. Performing at high-profile events such as Papal Masses, the choir celebrates centuries of tradition through its traditional spiritual songs and hymns. The angelic quality of their singing evokes feelings of transcendent peace that can soothe even the busiest souls. Listeners can experience the awe-inspiring performance online, which perhaps can move one to reconnect with spirituality even in today's modern world.
Notre Dame Cathedral Choir – Paris, France
The internationally renowned Notre Dame Cathedral Choir in Paris, France stands out for its beauty and grandeur. Established in 1160, the choir is celebrated for its unique choral music that is enriched by the acoustics of the cathedral. In 1814, the magnificence of the cathedral was recognized when Napoleon Bonaparte crowned himself as Emperor at the coronation service held there. The choir also takes part in a variety of events every year such as fashion shows, banquets, and concerts. With over a thousand years of history and glimmering talent, this legendary choir is sure to delight any event-goer.
St. Patrick's Cathedral Choir – Dublin, Ireland
Among the most iconic symbols of Dublin, Ireland stands St. Patrick's Cathedral Choir, whose reputation as a musical powerhouse has been cemented for centuries. Established over 800 years ago, the choir is believed to have reduced an entire community to tears upon performing its first-ever rendition of 'Locus Iste' in 1172; since then, their choral arrangements of both traditional Irish and contemporary tunes have won them admiration on a global level. In addition to regular performances at public and private services, the Cathedral Choir proudly takes part in events both within Ireland and abroad. Their legacy will indeed carry them far into the future, with fans old and new gathering to hear their generational tale told through sublime linguistic composition.
Westminster Cathedral Choir – London, England
Westminster Cathedral Choir in London is renowned worldwide for its exceptional choral sound. Since its formation in the early 1900s, the choir has been providing breathtaking performances of some of classical and sacred music's greatest works such as Fauré and Mozart to name a few. The choir has toured England, and Europe and recorded several eminent albums which all emphasize their unique choral style and technique. It serves to inspire young singers with its captivating compositions and masterly direction by Father Timothy Byford and his team of acclaimed directors. Hearing Westminster Cathedral Choir perform is an unforgettable experience that leaves many in awe.
There is no doubt that Europe has a great variety of amazing history and rich culture when it comes to choral music. From the majestic St. Peter's Basilica Choir in Rome to the renowned Sistine Chapel Choir in Vatican City, these European Church choirs have been an intricate part of their communities for centuries. The Notre Dame Cathedral Choir in Paris, St. Patrick's Cathedral Choir in Dublin, and Westminster Cathedral Choir in London are also noteworthy ensembles that continue to uphold awe-inspiring musical excellence around the world. Whether you choose to visit one of these legendary churches or just appreciate their beautiful music from afar, be sure to add them to your list of must-see places while traveling across Europe!
Being a part of a choir is a rich and rewarding experience. But before you join a choir, you should have some vocal training so that you can blend in with the existing choir and have the best possible experience. To get some of the best vocal training in the world, reach out to Brooklyn Music Factory in Brooklyn, NY to grow your vocal capabilities!