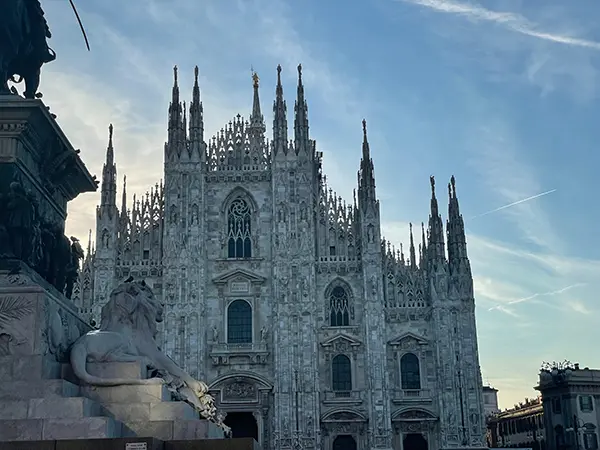 When you think of Italy, it's easy to be overwhelmed by the idea of breathtaking scenery and amazing architecture. But if you want a truly unique experience during your stay, then visiting some of Italy's most beautiful Catholic churches is an absolute must! No matter what faith you are (or aren't) part of, these incredible religious structures offer a peek into both the past and present, displaying stunning artwork from centuries ago alongside modern interpretations. With so many houses of worship around the country to choose from, it can be hard to decide where to go first – but lucky for those planning a trip or pilgrimage in this charmingly picturesque destination, we have hand-selected five of the best churches in Italy for you! Get ready as we explore some incredible sites that will leave even seasoned travelers in awe.
St. Peter's Basilica – Vatican City, Rome
St. Peter's Basilica, the largest church in Vatican City, is a stunning example of Renaissance-era architecture. Standing tall above the cobblestone streets of Rome, the basilica dominates the skyline of the city. Visitors to this magnificent building are awe-struck by its grand scale and intricately detailed facade that features sculptures, columns, and attractive tiled roofs. Upon entering the site, visitors are surrounded by breathtaking works of art and impressive architectural details, making it an incredible place to explore. There is much to learn about history and culture while visiting St. Peter's Basilica, as it houses priceless artifacts from centuries past such as sculptures originating from ancient Greek and Roman worlds. Although much has changed throughout history, one thing remains constant for this city- within its walls lies a sense of reverence for past civilizations and their impactful contributions.
Basilica di San Marco – Venice
The illustrious Basilica di San Marco in Venice, Italy is a celebration of both faith and beauty. It was originally known as the Church of St Theodore before it was rebuilt according to the design of Doge Domenico Contarini in 1071 who dedicated the church to Saint Mark, a change that endures to this day. The imposing brick facade is decorated with five arched panels inlaid with glass mosaic tiles depicting various scenes from the four Gospel books. The remarkable interior is worth visiting too and inside the various chapels, you can find many precious works of art and decorative features such as ancient bronze statues, marble columns, and gold treasures. With numerous beautiful features spanning multiple eras, it's no wonder that Basilica di San Marco has become one of the most prominent icons of Venice, an essential part of any trip to this romantic city.
Cattedrale di Santa Maria del Fiore – Florence
The Cattedrale di Santa Maria del Fiore in Florence is the beating heart of the city. Located in the Piazza del Duomo, this cathedral was built between 1296 and 1436 and stands as a testament to Renaissance architecture. With over 300 years of work put into completing it, today it is one of the largest cathedrals in Europe, having undergone several expansions over the centuries due to public demand. As a result, it now houses gothic-style architecture with frescoes adorning its walls and its grand dome that can be seen for miles. Inside, visitors will find an array of beautiful artworks from famous masters like Donatello and Brunelleschi that tell stories from religious history. Since it was completed so long ago, many have been enchanted by this remarkable structure aimed at worshipping God and his greatness for generations.
San Cataldo – Modena
Situated in Modena, Italy is the small town of San Cataldo. Characterized by its surrounding hills, olive groves, and warm climate, it is a place of natural beauty. A popular destination for visitors from around the world, San Cataldo offers a variety of attractions to explore. From breathtaking architecture such as the palaces up on the hill to traditional markets selling regional products – there's something for everyone. For an evening stroll, pedestrians can wander through the illuminated alleyways; singing with birds and skirting around Piazza Italia's lively pizzerias — creating exceptional memories that last forever.
The Duomo of Milan
The Duomo of Milan is one of the most beautiful churches in the world. As an example of great Gothic architecture, its white marble façade towers over the city and catches the eye from far away. Inside, its detailed interiors contain many works of Renaissance art, including statues and carvings that are hundreds of years old. Its vast interior can fit up to 40 thousand people and reflects a sense of grandeur not found in many other churches. With 135 spires and a grand dome reaching 106 meters high, it leaves visitors truly amazed by one of Italy's architectural masterpieces.
Overall, Italy is a country of antiquated treasures. From the Renaissance works to the intricate architectural details, each basilica is like a masterpiece. Whether you choose to discover the holy shrine of St. Peter's Basilica or explore the wondrous Cattedrale di Santa Maria del Fiore in Florence, these sacred sites transport visitors back in time. The Duomo of Milan along with San Cataldo of Modena are unique places packed with historical significance. Each basilica has its own unique beauty that pays homage to its original cultures and people who have made Italy what it is today – a timeless mosaic filled with stories and spectacular journeys that can be enjoyed by all generations for many years to come.